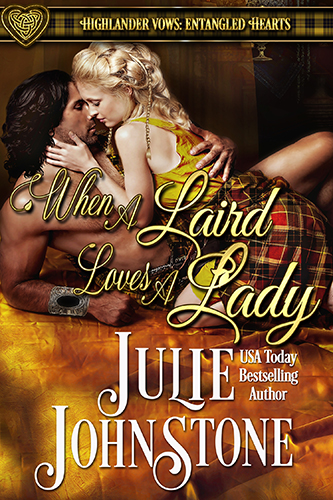 A need to belong drives her. A longing to forget compels him. Fate may send them into each other's arms, but only love can mend their hearts.
An Outlander
Raised by a tyrannical father, Marion de Lacy yearns for the comfort of belonging to a loving family. So when her father announces her betrothal to an evil baron in exchange for a number of knights, she concocts a desperate scheme to avoid the marriage: feigning her own death and then fleeing England. But when her plan goes terribly awry and she's captured by the baron, not even her careful preparations could ready her for the Scottish barbarian who rescues her and then informs her that he's to marry her by edict of her king. Certain her father will defy the king's orders and wed her to the baron if she refuses the Highlander's hand, Marion agrees to marry the strangely compelling but obstinate laird of the MacLeod clan.
A Highlander
After the death of his beloved wife, Iain MacLeod has no desire to marry ever again. Yet when he finds himself obliged to do so to secure the freedom of his childhood friend and king, he reluctantly travels across England to collect his unwanted bride, expecting to find a cold Englishwoman. Instead, he discovers a fiery, bold beauty who is fiercely loyal, protective of those she loves, and defies him at every turn, challenging his certainty that his heart is dead.
Ensnared
Following a hasty marriage and perilous journey to Scotland, Marion harbors no illusions that her new husband loves her. Still, her heart cannot resist the noble, brave warrior, and she cannot suppress the hope that she has finally found where she belongs. However, the harder she tries to fit in with the clan and gain Iain's love, the farther away her dreams drift. Iain is more than willing to give his respect to his courageous wife—her kisses and caresses even ignite his blood and demand his passion—but he refuses to give up his heart. That is, until enemies near and far threaten to take Marion from him. Now the demons that haunt him can only be conquered by surrendering body and soul to Marion, if only it's not too late…