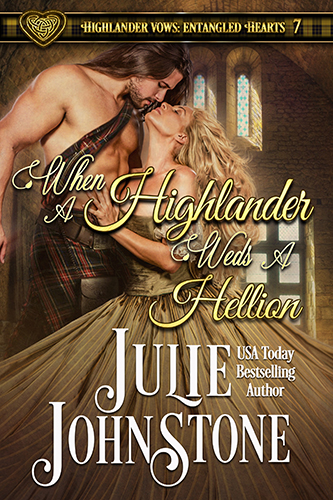 How far will he go to belong?
Fierce, famed Highland warrior Broch MacLeod has always been a bastard—until one day he isn't. And now that he's discovered his real family, he intends to do whatever it takes to carve a place for himself in it, including wedding the lass known as the Hellion of the Highlands.
What will she do for vengeance?
When strong-willed, independent Katreine Kinntoch is forced to wed her sworn enemy's son, she vows never to surrender her body or heart to the wickedly handsome, too-cocky Scot. Instead, she intends to make him dislike her so much that he'll gladly send her back to her home.
How long will it take them to see they are each other's only hope?
Danger and treachery unexpectedly bring Broch and Katreine closer, but can they trust each other enough to choose love over the ties that bind and the revenge that burns all around them?