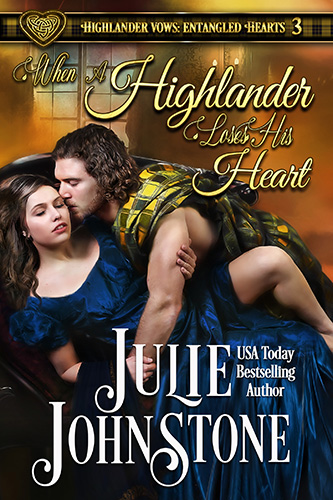 She was nothing more than retaliation against his enemies…until she became the woman he could not live without.
Set on revenge, Highland warrior Graham MacLeod abducts Isobel Campbell never anticipating his enemy's daughter would awaken an irresistible hunger in him. But when his beautiful, headstrong captive challenges his will and proves her courage and honor by willingly risking her life for his, he cannot deny the dangerous passion she stirs in him. Suddenly, his agreement to deliver Isobel to the king who wishes to use her holds little appeal. Yet, with a battle for the Scottish throne brewing, he knows the king will not relinquish the pilfered prize. To everyone else, Isobel is a pawn to be manipulated, but the more time Graham spends with her, the less he sees her as an adversary and the more she becomes the forbidden temptation he must resist.
Isobel Campbell is a wanted woman, but not for who she is, only as the heiress of a castle that holds the key to power over the Scottish isles. And when she is kidnapped by her family's bitter enemy, all she wants is to return to the father she idolizes. But she soon discovers that those she considers her protectors may in fact be her biggest threats, and the brave, fierce warrior she fears may actually be the one person she can rely on.
A chasm of distrust and an undeniable yearning flare between Isobel and Graham, along with the promise of unexpected love. However, in order to triumph, they must find a way to vanquish their doubts and build an alliance that can withstand the devastation of war and a king determined to sacrifice anything—and anyone—to keep his throne.