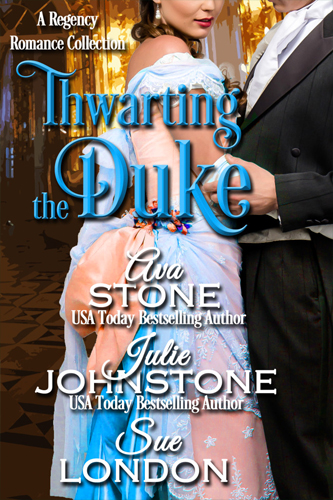 When the Duke of Danby comes to London for the Season, anything can happen!
Thwarting the Duke contains…
LADY HOPE'S DASHING DEVIL by AVA STONE
Lady Hope Post has suffered the most rotten luck over the last year. She's lost the love of her life. Her great-uncle and Machiavellian matchmaker the Duke of Danby has a special license just waiting for her somewhere. And after one tiny little phaeton accident in the park, the most devilish earl attempts to blackmail her over the incident.
Thaddeus Baxter, the Earl of Kilworth has every intention of restoring luster to the earldom he's inherited from his ne'er-do-well cousin, but when an adventurous lady upends his phaeton in the park, all of Thad's perfectly respectable plans are tossed out the window. What are the odds he'd cross paths with the same girl who'd nearly brought down his cousin's earldom in the first place? And what are the odds he'd lose his heart to her as well?
IT'S IN THE DUKE'S KISS by JULIE JOHNSTONE
Lady Emmaline Radcliffe always knew she never wanted to marry a man who embraced the rules of Society. But when her mother threatens to secure a suitable match for Emma if she cannot make one on her own, Emma sets out to determine if her girlhood infatuation is the love she's been looking for. Nathaniel did save her life once, after all. But when she finds herself in the arms of the gentleman's brother—the serious and proper Duke of Blackbourne—she begins to question all she ever thought she desired.
Lucian, the Duke of Blackbourne, is tired of playing keeper to his irresponsible brother. He vows to quit, but when his brother resolves to seduce the impetuous Lady Emmaline, Lucian knows he must save his foolish brother and the innocent debutante from themselves. Yet his plan to intercede goes awry when he finds himself drawn to the woman who is everything he was positive he didn't want in a wife.
But his brother won't give up so easily, and soon Lucian's well-intentioned plans are revealed. Now to keep Lady Emmaline's heart he must prove that he's truly not the stuffy, sneaky duke he seems to be.
HER RELUCTANT LORD by SUE LONDON
Miss Agatha Chase has more than enough problems simply keeping her household together, with three younger brothers and one aged servant. Now a great-uncle she's never heard from before has offered to sponsor her for a Season in London. She is far too old for such frivolity, but everyone tells her that you don't say no to a duke!
Laurence Garner has unexpectedly inherited his brother's title, Viscount of Rothering. He's a man of honor, but the tiresome duties of nobility chafe for a man used to the open sea. And now he's squiring an insipid miss around London as a favor for a friend! If only something exciting would happen.