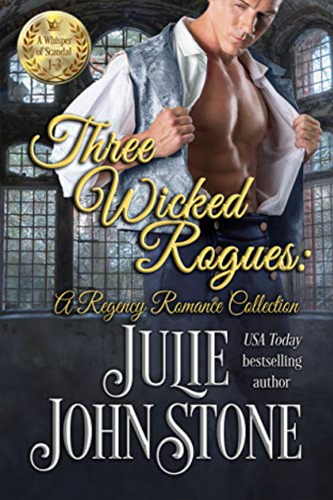 Three swoon-worthy historical romances in one boxed set!
USA Today bestselling author Julie Johnstone's Whisper of Scandal Regency Romance series sizzles from the first page to the last. Be prepared to be swept away by a dashing duke, a wicked rogue, and a dangerous lord! Venture from the glittering ballrooms to the decadent countryside of England where love is a game for the cunning and not the faint of heart.
Book 1 – Bargaining With a Rake
For eleven years, Gillian Rutherford has dreamed of escaping her family's dark secret and living a normal life. Now, faced with an unwelcome marriage that will chain her to London and the secret slowly killing her, she's desperate to save herself and the sister she adores. Salvation comes in the form of an American shipping tycoon, and all she must do is seduce him into marrying her. But Gillian's scheme hits a snag when she makes a bargain with a notorious rake Alexander Trevelle, Lord Lionhurst. He'll help her win the hand of his American friend, if she'll assist him with exacting revenge against her unwanted fiancé. But the price of the pact may just be their hearts.
Book 2 – Conspiring with a Rogue
In order to save the man she loves from the enemy bent on destroying her, Lady Whitney Rutherford sheds her identity and escapes her past, making a new life for herself as Mr. Roger Wentworth, missing person locator extraordinaire. But when Whitney's best friend from her old life comes up missing and there is every indication the girl was taken by the debauched members of a secret club, Whitney dons a new disguise and infiltrates the club, determined to unravel the mystery and save her friend. She never expects to encounter Drake Sutherland―the man who still has her heart. In the dark world of pleasure and sin, Whitney must play a dangerous game and one wrong move could mean the death of her friend or the destruction of the man she loves.
Book 3 – Dancing with a Devil
A Lord Chained To His Past…
Lord Trent Rutherford's past has left him guarded, jaded and perfectly content to spend the rest of his life moving from one meaningless affair to the next. Until he meets Lady Audrey Cringlewood, an innocent beauty who makes him question everything he believes. His devilish demeanor guards more than a wounded heart. Behind his swagger lie secrets he'd rather forget than face, but the price of forgetting may be his second chance at life.
A Lady Determined To Shape Her Future…
Audrey Cringlewood longs to marry for love, not convenience. After several months of flirtatious banter, secret smiles and three very unforgettable kisses, Trent Rutherford, the rake known as Sin, proves himself the man of her dreams. Audrey suspects she understands the pain he hides behind his devil may care attitude, but when the truth comes to light, is her love enough to heal all wounds or will the secrets Trent guarded so carefully tear them apart forever?