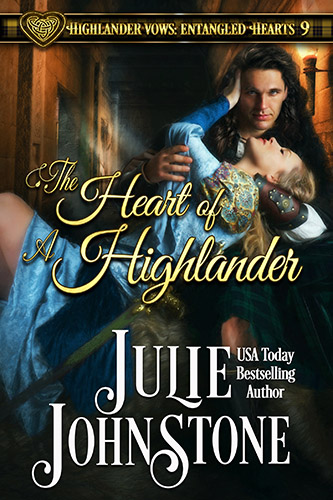 He finally has the chance to clear his family name. The only thing standing in his way is his tempting new wife.
Known as the King Maker, Ada MacQuerrie yearns to wed for love and not the magical gift she possesses. But her ruthless stepbrother doesn't care what she wants; he just needs her to marry one of his treacherous allies. When an attempt to escape his control and save those she loves goes awry, Ada is forced to choose a husband from the miscreants who've come to align themselves with him. All seems lost until a compelling latecomer displays unexpected honor. But is the mysterious Highlander another treasonous Scot simply trying to seduce and manipulate her, or is the man they call Wolf the ally she's been hoping for?
William MacLean has spent years shouldering the shame of his father's and brother's alleged treason against the king. So when the chance to exonerate his family presents itself, he willingly woos an unwanted bride who has the power to topple his enemies. A seemingly simple plan. Except William has survived by keeping others at a distance, and his new wife is not the calculating enemy he expected but a bold, brave beauty he fears could become his greatest weakness.
When passion flares between them, Ada cannot suppress the hope that her dreams could come true. Yet the closer she tries to get to William, the more he withdraws. It's not until justice is within his grasp and his enemies take Ada from him that he realizes the demons dwelling within him can only be conquered by the light his wife offers. But is it too late to surrender his heart to the woman who already holds it?