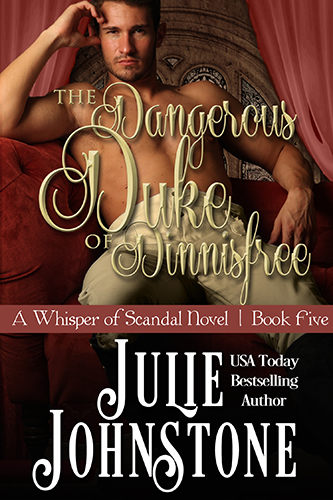 Justin Holleman, the Duke of Dinnisfree, is used to being wanted—in bed, for missions, and even dead. He's protected his country more times than he can remember, gaining enemies along the way, but he failed to defend himself from the past that hardened his heart. Instead, he became an expert at shutting people out. Yet now, in order to save the king, Justin needs to let go of his old ways and let someone closer to him than ever before. He approaches the mission with his classic cold calculation, but his fiery new ally upends his ordered world and entices him at every turn. Suddenly he's in danger of compromising his assignment and losing his heart, two things he swore never to do.
Desperate to protect her parents from poverty, among other things, Miss Arabella Carthright unwittingly becomes a pawn in a dangerous political battle when she agrees to aid an enigmatic stranger. Having learned long ago to count only on herself, she's surprised when time and again the duke actually aids her. But when his true assignment becomes clear, Arabella realizes the man she's come to care for poses the greatest threat to those she loves.
As Justin and Arabella face their feelings and their web of deception falls away, they must decide how high a price they are willing to pay for love and loyalty.