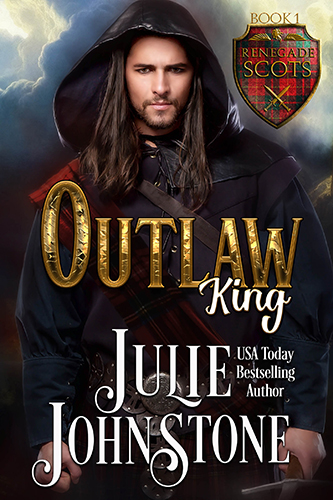 A deadly game of war entangles them. Deception endangers them. Only an impossible love can save them.
When headstrong Elizabeth de Burgh's evil father threatens to kill her beloved cousin unless she seduces his enemy Robert the Bruce, she begrudgingly agrees. But as she grows close to the arrogant leader of the Scottish rebellion whose savage good looks whisper of pleasure, she discovers that behind Robert's facade of coldhearted traitor lies a noble fighter who will risk all for the freedom of his country. Now, she can no longer imagine aiding in Robert's destruction. But does she have a choice?
Fierce Scottish warrior Robert the Bruce would do anything to release his country from English rule and claim his rightful throne. Enemies on both sides surround him, however, and Robert must dance a dangerous line between truth and duplicity. One misstep could topple his nation and cost him his life. Yet one irresistible woman tempts him—and jeopardizes his mission—as no other ever has. Robert is in no position to entangle himself with the enemy, especially one who may be plotting his defeat, but the feisty, determined, blue-eyed beauty ignites a longing in Robert that he has never known. But is she his biggest threat or greatest source of strength?
Bound by duty and honor but ensnared by uncontainable desire, Robert and Elizabeth must decide how much they are willing to sacrifice for the one thing they thought they'd never find—extraordinary love.