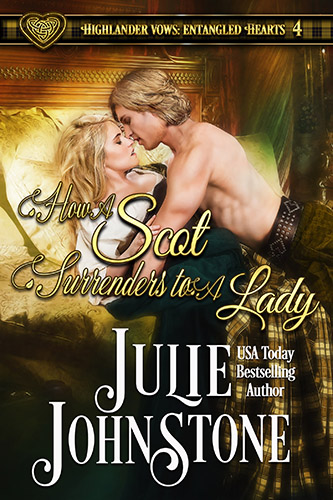 She was the weakness he could not afford, and the temptation he could not deny.
Highland warrior Cameron MacLeod's mission for the king has just gone dangerously awry, and the best chance he has of saving it is the fair-haired beauty he encounters during the ambush. Injured during the battle, the enchantress has lost her memory, but Cameron harbors one of her. Long ago, a seer foretold that this woman had the power to destroy him. He's confident he's not so weak as to succumb to her charms, but the mysterious woman soon proves herself brave, guileless, and after one foolish, searing kiss, impossible to resist.
When Sorcha Stewart awakes in a strange place, the only person she has any memory of is the handsome highlander in front of her—and even that memory is hazy. Still, she instantly feels drawn to and protected by Cameron, and he proves her instinct correct with his willingness to endanger himself to defend her. Soon, love ensnares her, and when Sorcha finally recalls her history, she learns she's irrevocably tied to the very enemies the Scot has been hunting.
Now that the seer's foretelling is coming true, it's putting Cameron in grave danger. With little time and their futures hanging in the balance, Cameron will have to swallow his pride and seek the help of his renowned brothers, whom he's spent his life striving to be considered equal to, or risk losing Sorcha forever. As for Sorcha, she'll have to break ties with her past to hold on to the wondrous love she's discovered.