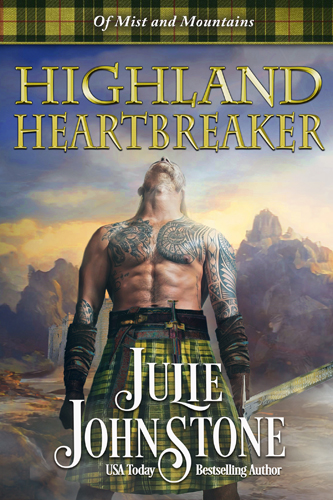 A fallen hero. A jilted lass. A game of treachery they may not survive.
The day Elena MacLeod's arrow pierced Rolland MacKay's arse, she fell in love with the ruggedly handsome Scot, despite her better judgment. After all, he was known as the Highland Heartbreaker. Given that, it should have come as no surprise when he disappeared without a trace the day before they were to be wed. But she had become a hopeless fool for the warrior and was devastated. Four years later, when the Highlander resurfaces just as mysteriously as he vanished, Elena is thrilled…until it's clear the rogue doesn't deserve her unwavering devotion. Disgraced once more, she vows she'd rather be bitten by a venomous snake than see the dastardly man ever again. But when someone tries to kill her and her impatient father orders her to finally wed, she's horrified to discover that the man she once adored is the very one to see her safely to her new betrothed—his cousin.
No amount of years could erase the memory of the frustrating, fascinating Elena MacLeod from Rolland MacKay's mind. Though he's a hardened warrior taught to have no use for soft emotion, the beguiling creature once tempted him to let her into his head and heart. But whatever life they might have had together has been lost to the world of secrets and lies he must dwell in for the unforeseeable future. Engulfed in the never-ending struggle for the Scottish throne, Rolland has lost nearly everything and is determined to solve the mystery that set him on this path. When he's unexpectedly tasked with seeing Elena safely to his cousin so they can wed, Rolland soon discovers that to reclaim his reputation and his home, the feisty lass he's trying to keep his distance from may be his greatest ally.
Thrown together on a perilous journey through the Scottish Highlands, Elena and Rolland will learn that true love is more than the first blush of desire. It's a weapon to be wielded and can save them, if only they surrender to it heart and soul.