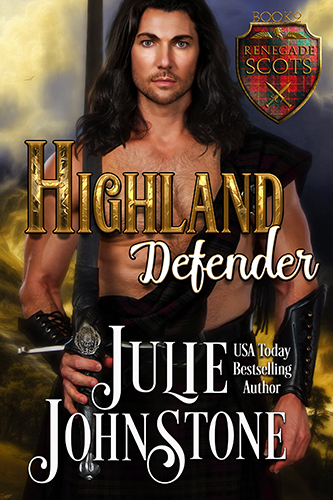 To protect herself, she'll deny her powers. To save her, he'll break every rule he's vowed to live by.
Lillianna de Burgh knows all about the legend surrounding the women in her family—that true love awakens the gift of sight within them. But given the horrific betrayals the power has brought her ancestors, she wants no part in true love or the supposed gift. Avoiding her fate seems simple enough since men have proven time and again that they wish to use her, not cherish her, even her own kin. Thankfully, when she flees England to escape her evil uncle, she finds herself in the company of a seemingly hard-hearted Highlander who thinks the legend nothing more than a myth. As they travel together, she comes to discover that behind his cold facade lies a fierce and honorable protector, whose mere touch ignites the passion within her. Yet, the more she tries to resist it, the more she seems to fall.
Renowned Highland warrior Angus MacLorh lives by three principles: put country above self, protect family at all cost, and never become entangled with a lass—not again. So when his future king needs him to accompany the far-too-lovely Lillianna to safety, Angus agrees, confident he can keep her at a distance, as he does all women. Yet the gentle, fiercely determined lady intrigues and tempts him at every turn, and when his greatest enemy captures her, he finds himself breaking all his rules to save her.
As the fight for the Scottish throne embroils Lillianna and Angus deep in danger, enemies near and far hunt them threatening their very lives. When the truth of the legend finally comes to light, can a lady determined to escape her destiny and a Highlander bent on facing his future alone overcome the barriers they've created and trust in their hearts to lay claim to the most glorious of love?