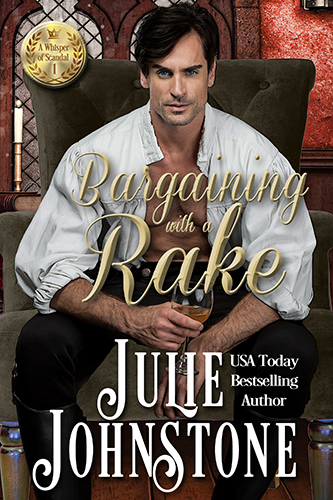 A lady desperate to escape. A rogue out for vengeance. A secret alliance that ignites a passion which could destroy their carefully laid plans.

A lady desperate to escape.
For eleven years, Gillian Rutherford has dreamed of escaping her family's dark secret and living a normal life. Now, faced with an unwelcome marriage that will chain her to London and the secret slowly killing her, she's frantic to save herself and the sister she adores. Salvation comes in the form of an American shipping tycoon, and all she must do is seduce him into marrying her. But Gillian's scheme hits a snag when she makes a bargain with a notorious rake. He'll help her win the hand of his American friend, if she'll assist him with exacting revenge against her unwanted fiancé. But the price of the pact, may be her heart.

A rogue out for vengeance.

When tragedy strikes his family, Alexander Trevelle, Marquess of Lionhurst, plots revenge. Fate smiles upon him when the key to his success stumbles into his path behind a dark curtain in an odious ballroom. And when he discovers the ravishing chit's scheme to avoid wedding the object of his loathing by instead acquiring a proposal from Alex's business partner, he is only too happy to assist her. Yet as the plan is set into motion, so too is impossible attraction. The lady wishes to be wed, and Alex desires no part of a union that demands the engagement of his affection.

An arrangement better broken.

Despite their best efforts, Gillian and Alex discover that some temptations are too strong to resist, and when their simmering passion explodes, it might be the thing to devastate them. The proud lady and the damaged rogue both hide secrets from each other, and as their common enemy positions himself to outmaneuver them, the only path to victory is to expose their carefully guarded weaknesses. If they can trust in each other, they may just find that the greatest triumph of all is that of true love.