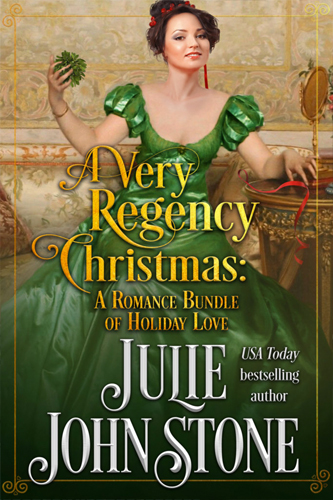 From the glittering ballrooms of the English nobility to the cozy countryside of Regency lords and ladies, cuddle up this Christmas with three swoon-worthy holiday tales filled with dashing heroes, bold heroines and epic true love from USA Today bestselling author Julie Johnstone!
The Redemption of a Dissolute Earl – Book 1
The day Andrew Whitton, Earl of Hardwick chooses his fortune over the woman he loves, Drew discovers that money makes for a cold bed partner. Now, no matter how far he runs, the memory of his betrayal haunts him, and there's not enough liquor to dull the past or diminish his disgust.
Charlotte Milne trusted in happily ever after until her knight turned out to be wearing rusty armor. Drew, the scoundrel, seduced her, though she very much enjoyed the seduction by the man she's loved since childhood. Left scandalously ruined, Char flees her home intent upon forgetting Drew and proving her worth.
Separated by disloyalty and pain, each struggle to bury the memories of the other until a mandatory summons from the Duke of Danby sets them on a path of collision to Danby Castle. With the tides of irrevocable change rising, Drew must find a way to show Char that even the most selfish of rakes can be redeemed by love before the woman of his heart becomes the wife of another.
Season for Surrender – Book 2
Lillian Lancaster would rather catch the plague than a husband. Unfortunately, her abusive, recently deceased father's will stipulates her inheritance hinges upon her marrying a lord. With time running out, Lillian proposes to the guilt-ridden, marriage-averse Lord Edgeworth after securing his agreement to a marriage in name only.
Edgeworth feels responsible for his former betrothed's death and believes he doesn't deserve love, which makes Lillian's proposal oddly perfect. Commanded by his grandfather to marry by Christmas or become penniless, the obviously perfect choice is a woman who wants nothing to do with him.
When Lillian displays a brave and true heart and Edgeworth reveals his honorable, protective side maintaining a marriage of convenience becomes harder than these two wounded souls imagined. Now, Lillian and Edgeworth must decide if they are courageous enough to risk their hearts and surrender to love.
It's in the Duke's Kiss – Book 3
Lady Emmaline Radcliffe always knew she never wanted to marry a man who embraced the rules of Society. But when her mother threatens to secure a suitable match for Emma if she cannot make one on her own, Emma sets out to determine if her girlhood infatuation is the love she's been looking for. Nathaniel did save her life once, after all. But when she finds herself in the arms of the gentleman's brother—the serious and proper Duke of Blackbourne—she begins to question all she ever thought she desired.
Lucian, the Duke of Blackbourne, is tired of playing keeper to his irresponsible brother. He vows to quit, but when his brother resolves to seduce the impetuous Lady Emmaline, Lucian knows he must save his foolish brother and the innocent debutante from themselves. Yet his plan to intercede goes awry when he finds himself drawn to the woman who is everything he was positive he didn't want in a wife.
But his brother won't give up so easily, and soon Lucian's well-intentioned plans are revealed. Now to keep Lady Emmaline's heart he must prove that he's truly not the stuffy, sneaky duke he seems to be.
*These long novellas have each been published previously as stand-alone titles with the same names.