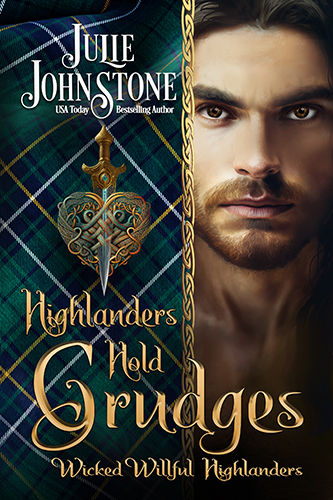 He kidnapped her to save his clan, not to lose his heart.
Desperate times call for desperate measures, and no one is more desperate than Highlander Alasdair MacRae. His clan is on the verge of disaster, thanks to continuous raids from the lying, thieving, murdering MacKenzies. Their latest strike has left Alasdair's family on the precipice of starvation and his brother badly wounded. The time has come to hit back, and what better blow to deliver than to kidnap his enemy's daughter and use her to negotiate much-needed peace. His plan is simple: wed the lass. It's well-known that she's beloved by her father, and the doting Highlander certainly won't go to war with Alasdair's clan if he's married to the man's daughter. Once the vows are spoken, he plans to send her to a nice little cottage on his land, where she can live her life as she wishes, and he can live his as if he's not wed. But his plan meets an obstacle he didn't foresee, and suddenly, Alasdair finds himself fighting to protect a woman he thought was his enemy and questioning whether he's wooing the lass to see out his scheme or to truly capture her heart?
When Maeve MacKenzie discovers her adoring father has denied his own heart's desire so that she may find hers, she resigns herself to stop delaying and finally honor the betrothal to her childhood friend. Their union will strengthen her clan and give her father a second chance at love. But when tragedy strikes, she's snatched from her home by Alasdair MacRae: the barbaric Highland beast who long ago awakened cravings in her that are impossible to forget. As the heiress of a strategic fortress coveted throughout the Highlands, she's well-aware the Highland fiend wishes to gain her castle. She has no intention of falling prey to his transparent ploy to woo her, though, and every intention of escaping him. Except the blasted Highlander still possesses an extraordinary ability to kiss, and beyond that, he has the nerve to display seemingly honorable qualities at every turn. How's a lass to know if it's all simply a ruse by a cunning, too-handsome foe or if the man she believed to be her enemy is really her greatest hope?
Winning Maeve's love isn't something Alasdair ever expected to want, but the sharp-tongued, iron-willed lass ignites a yearning in him that can't be denied. And when enemies threaten to take her from him forever, Alasdair will do whatever it takes to make her his, even if he has to fight a war to win his bride and lay claim to her heart.